Useful Bedding Information
A:

Piqué

(pronounced "pee-kay") fabric is characterized by raised designs – cords, waffles, or patterns. Technically, piqué fabric is known as a double-cloth, with the unique texture achieved by weaving two layers of fabric, one above the other, on the same loom.
Below is a close-up of
Sferra''s
Marco
, which is woven of 100% Egyptian cotton into a lightweight, miniature-piqué pattern.
Marco
is available in
blanket covers and shams in White, Ivory, and Grey.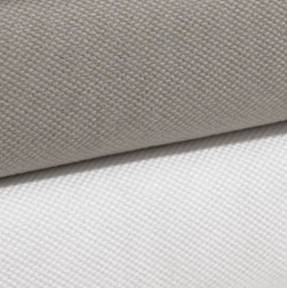 Q:

What is a

punto ombra

hem?
A: Punto ombra

is a special Italian hem treatment in which a satin stitch is embroidered on the reverse side of the fabric. This stitch creates a low-relief, or raised, border on the front of the fabric for a subtly finished hem. A punto ombra hem is clean-lined, elegant, and resilient. It is much more subtle than the classic satin stitch, for it uses the fabric itself to create the hem, ensuring a perfect match with the color of the fabric.
SFERRA's

Italian sewing rooms specialize in creating this intricate hem. Below is an image of the punto ombra hem on Sferra

Avellina

bed linens: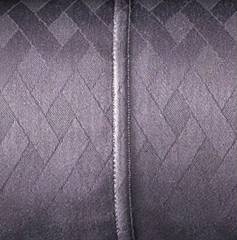 Q: What is a

gingham check pattern

?
A: Gingham is a plain weave, yarn-dyed cotton or cotton-blend fabric. Gingham was originally woven with stripe patterns, but is also woven with checks (two colors) or plaids (three or more colors).
A

gingham check pattern

is created by weaving parallel horizontal and vertical stripes of equal widths, either in a white and color-dyed yarn, or two color-dyed yarns. The crisscrossing of the two colors in the warp (lengthwise strands attached to the loom) and weft (horizontal strands that cross the warp) produces an allover pattern of solid-color, square checks. The two colors of stripes intersect to form a third color check. Think of a classic red picnic cloth or Dorothy's blue dress in the Wizard of Oz.
Sferra''s new

Piccadilly

table linens are

not gingham

. They are European-woven, pure linen and feature a yarn-dyed gingham check pattern and they can be used year-round for any festive occasion. Below is an image of the

Piccadilly

colors: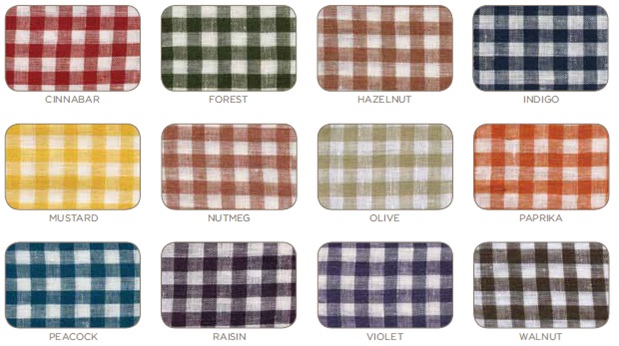 Q:

What should I know about

Egyptian cotton

?
A:
As the term implies, "

Egyptian cotton

" is used to describe cotton grown in Egypt. The fertile Nile River valley of Egypt has long been considered the most desirable setting for growing the finest cotton in the world. It has the perfect climate to produce cotton with extra-long fibers; the valley is sufficiently humid and the soil is rich in nutrients. This reputation is precisely what makes the term "Egyptian cotton" so meaningful to consumers.
It is important to recognize that Egypt grows a variety of different types of cotton, which are categorized by the length of the cotton fiber (known as

staple

.) There is Extra-Long Staple (ELS), Long-Staple (LS), and regular cotton, and there are significant differences between these varieties.
The ELS fibers allow the cotton to be spun into much finer, softer, and stronger yarns. And fabric woven with ELS cotton is more breathable, providing greater comfort. It also produces less lint and has less of a tendency to pill. And as an added bonus, it becomes softer with every laundering.
Unfortunately, most products labeled "Egyptian cotton" are

not

made with ELS cotton yarns. Only a small percentage of the Egyptian cotton production is ELS, and within the ELS category, the finest varietals are not being grown in any significant quantities. Therefore, it is best to be somewhat wary when "Egyptian cotton" is listed as the fiber content.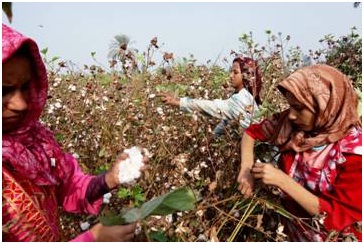 During 2011, China, India, and the United States collectively produced over 75 million bales (480-pounds) of cotton. In contrast, Egypt produced just under 750,000 bales, less than 1% of the production of the top three cotton-producing countries.
The good (and most important) news here is that

SFERRA

uses

only superior-quality ELS Egyptian cotton

in weaving its Italian-made luxury bedding collections. When you consider that Egyptian cotton makes up such a minute share of the worldwide cotton production, and less than 20% of Egyptian cotton is ELS, and only a small percentage of ELS is actually the varieties with superior quality,

SFERRA''s

luxury linens can be seen in their proper context.
As you may already know,

SFERRA Giza 45®

is woven with the highest quality level of ELS Egyptian cotton, Giza 45, which represents less than one half of one percent of all of the cotton exported from Egypt.

SFERRA

is the only manufacturer of luxury sheets that uses this yarn, the world's finest.
Q

: What is so special about

SFERRA's

easy-care table linens?
A
:
SFERRA
produces two different styles of easy-care table linens:
Juliet
. Both of these styles are yarn-dyed woven jacquards, using ring
-
spun polyester yarns.
Polyester is a man-made, synthetic fiber. There are two types of polyester yarns – open end and ring-spun. Each start with the same fiber strands. However, producing open end yarns is faster and less expensive, while producing ring-spun yarns is more expensive and takes up to five times longer. In the ring-spun process, the yarn is made by continuously twisting and thinning the strands. This twisting results in a stronger yarn with a significantly softer hand.
The ring-spun yarns have significant advantages over open end yarns:
superior soil release properties

greater resistance to fading and discoloration

twice the tensile strength

higher abrasion resistance and durability

lower pilling propensity

improved wrinkle resistance

enhanced color retention
Ring-spun polyester yarns yield a much softer and lighter weight fabric, with a more luxurious and natural drape.
Below is a close-up image of
Juliet
, with its elegant lattice pattern,
stocked in
Fern, Ivory, Ocean, Persimmon, Taupe
(shown)
, and White: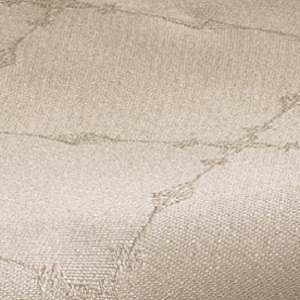 Below is a close-up image of Orchard
with its graceful scrollwork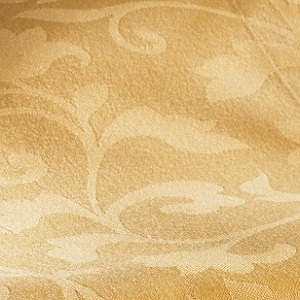 Q:

Why should I use a

mattress pad?
A:

A

mattress pad

is designed to lie on top of a mattress. It can have an elasticized skirt that is placed over and around a mattress, similar to a bottom fitted sheet. Or it can have anchor bands at the corners that keep it in place.
A mattress pad serves several purposes:
It offers extra cushioning, enhancing the overall comfort of the mattress. You experience the added softness of a mattress pad, while not taking away from the support of the mattress.

It provides an added layer of warmth between the mattress and your body. In colder weather, or in well-air conditioned rooms, a mattress pad acts as insulation and helps keep you warm.

It acts as a buffer between the sheets and the mattress, helping protect against stains. An unprotected mattress can become stained very easily, even from natural perspiration.

It protects the integrity of the mattress, especially the stitching along the seams. A protected mattress will have a much longer useful life.

Sferra''s

Arcadia

mattress pad features

PL?MA-FIL

down alternative encased in a pure white cotton sateen ticking. It has elasticized side walls that will accommodate up to a 17" deep mattress. The

Arcadia

mattress pad is available in Twin, Twin XL, Full, Queen, King and California King.
Q

: What is

lace inset bedding

and how is it made?
A

: A

lace inset

is a piece of lace set into fabric as a decoration or trim. The edges of the lace are sewn onto the base fabric, sometimes with a decorative stitch. The base fabric behind the lace inset can then be trimmed away to create a lace inset window. It is an intricate process that takes the skilled hands of an expert seamstress to create.
Below is an image of
SFERRA's Diamante
lace inset, finished with delicate hemstitching: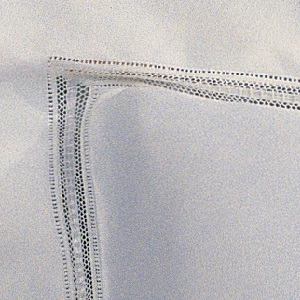 A:

Cashmere

is wool obtained from the Cashmere goat. The majority of the world''s Cashmere today comes from China and Mongolia, with the finest found in the Gobi Desert region of Inner Mongolia. Cashmere goats produce a double fleece. The fine, soft undercoat (or underdown) of hair is mingled and must be de-haired from the straighter and much coarser outer coating of hair (or guard hair.)
Cashmere is characterized by its fine, soft and strong fibers, which are highly adaptable and skillfully spun into yarns. This luxuriant wool provides a natural, light-weight insulation with a silken feel. The resulting Cashmere fabric is highly durable and will last for years if cared for properly.
SFERRA's
beautiful
Cashmere throw

,
Dorsey
, is available in eight colors, Almond, Champagne, Chocolate, Grey, Ice, Ivory, Peacock, or Wisteria, as shown below.
Below is an image of a Cashmere goat: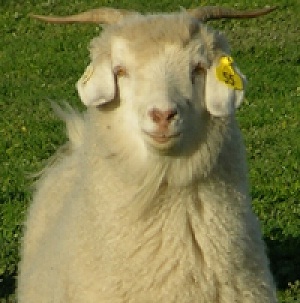 Q:

What is

napped fabric

?
A:
Napped fabric

is created through a process that teases the fibers, raising the nap, or pile, and creating in a softer, warmer finish. After the fibers have been raised, they are brushed and/or sheared off to make them even. The raised fibers of napped fabric all lie in one direction, making the fabric look and feel different when viewed or touched from different angles. In addition, improved thermal insulation and warmth are provided by the insulating air cells in the nap.
Sferra
features three European-woven brushed cotton styles.
Villetta
is Sferra''s new cool-weather brushed percale sheeting, with a plush, luxurious chamois-like hand.
Celine
, Sferra''s most popular throw, is brushed cotton, made with a soft, herringbone weave in 15 colors. Sferra''s top-selling
St. Moritz blanket
is brushed for extra softness and warmth and is featured in 14 colors.