SDH Sheets & Bedding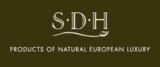 SDH is one of our favorite fine linen lines. Not only are SDH fabrics beautiful, they are exceptionally well constructed and a lot of attention to detail goes into the manufacturing process of the various bedding fabrics and colors. Here at J Brulee we usually can't wait for each new release of SDH bedding options, and SDH is also quite accommodating when it comes to customizing their bedding and sheets which is a nice option if you need a specific size.

SDH believes that an all-natural lifestyle doesn't have to mean giving up style, comfort and high quality. SDH offers bedding and linens that are purely refreshing for the body, the mind and the soul. By creatively designing and manufacturing products made of all natural elements, SDH produces elegant bedding assortments that elicit a warm, peaceful feeling. SDH's goal is to promote environmental friendliness while making exquisitely crafted bedding and sheets for our customers enjoyment. SDH's timeless stylings in all natural themes have become internationally popular and are available at distinctive bedding and linen boutiques worldwide.
Click to read more