Down Blankets
What is the difference between a down blanket and a down duvet?
Generally speaking, down blankets are more lightweight than down duvets. Down blankets typically use a sewn-through construction, where the top

layer of ticking is sewn directly onto the bottom layer to keep the down evenly distributed. Down blankets are typically sized a bit more generously than a duvet, as they're often used in place of a duvet, woven blanket, or coverlet.

A down duvet is

sized to fit inside a duvet cover and

comes in a variety of weights and fill powers. Luxury down duvets use a baffle box construction for optimal thermal insulation. Baffles are vertical walls of fabric sewn
to connect the top and bottom ticking layers,
creating a grid inside the duvet The compartments created by the baffle construction give room for

high fill power down to maintain its loft and prevent it from shifting, ensuring that the duvet maintains its thermal properties.
Click to read more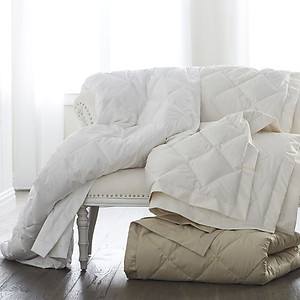 $0.00
452
8 Colors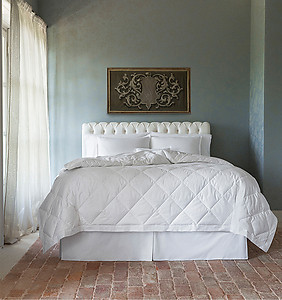 $0.00
424
600+ Fill European Goose Down