How to Choose a Pillow
How to Choose a Down Pillow, courtesy of
St. Geneve Down
:
Is it time for a new down pillow?
If your down pillow looks worn out, and has lost its shape - if it seems flat - then it is no longer supporting your neck, and it is probably interfering with quality sleep.
Choose a new down pillow wisely
Choosing the right down pillow is critical to getting a good night's sleep. You will spend 8 hours a night, 7 days a week. 365 days a year with your face buried in your pillow. It never gets a holiday; especially when you take your pillow with you when you travel, so choose it wisely. Selecting a down filled pillow is a surprisingly personal choice, yet with these simple tips, it is quite straightforward.
Allergies?




St. Geneve natural down and feather fills are all processed according to the

Z
urguard

system, so all St. Geneve down pillows are guaranteed hypoallergenic. These down pillows are all covered in a special dust mite proof cotton cover. For more information, please see our guarantee section,
St. Geneve Down Pillow and Comforter Guarantees
St. Geneve down pillows
are all covered in 100% pure cottons that are specifically matched to each type of fill. Many styles of St. Geneve down pillows can be machine washed and dried at home, and all covers are
Dust Mite Proof
(there are

no chemical fillers

to make these cottons down proof; these chemical fillers are inexpensive and don't last). Rather, St. Geneve uses a special high pressure and heat system that presses a memory into the shape of the cotton threads so that the fabric never looses its down-proof qualities. Very high thread counts are not appropriate for most down pillow covers as they are treated quite differently than duvets, and will wear through prematurely if too delicate a fabric is used.
St. Geneve uses a
special rolled seam
on their washable down pillows, which makes the edges more down proof, so there is no piping.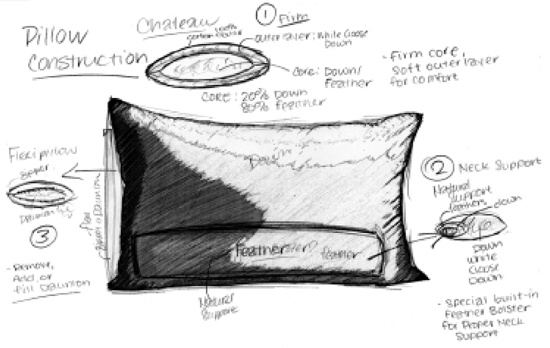 Choose your down pillow firmness


The right firmness for your down pillow will let your neck muscles relax, and may even alleviate snoring. You will certainly wake up feeling more refreshed.

You should choose the right firmness to provide neck and spine support for your particular physical size, sleeping habits, and individual preference.

Any
new down pillow
will lose about 10% to 15% of its original puffiness within the first few nights of use, so please be mindful of this when choosing your pillow.
Choose the best down pillow size



There are many pillow sizes available:





Regular, Standard, Queen Pillows:

these sizes are the most appropriate for

sleeping pillows

as the fill is held properly in place. For the best appearance, we suggest a standard or queen pillow on a twin bed, and a pair of standard or queen pillows on a full or queen bed, and use three regular or standard size pillows across a king bed. The down pillows you sleep on should be where most of your pillow budget goes to, so therefore get the best you can afford.
King Pillows:
the fill in this larger size tends to shift too much, and is not really appropriate to sleep on. They are best used in pairs for a decorative effect on a king bed, covered with either pillow cases, or better yet, pillow shams (these can be a less expensive grade).
26" x 26" Euro Pillows:
This pillow is often used for sitting up in bed, and for a decorative effect. We suggest using two on a full size bed, and three on a king or queen sized bed. We prefer to use a feather blend fill for best support.
31" x 31" Grand Euros Pillows:
This size has been widely popular in Europe for generations. We suggest Grand Euros if you like to sit up in bed to read or watch TV. Use two on a queen sized bed, and two or three on a king sized bed.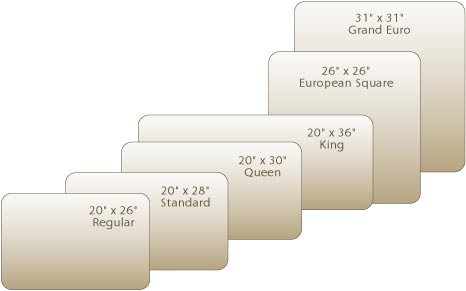 Choose the comfort
You should choose the right compression to suit your preference. This is not to be confused with 'firmness'. Compression is how much the pillow will sink down and then spring back up again. The higher the quality of the down pillow, the better the compression. Pillows with a higher feather content tend to compress less, and those with better quality down will compress and spring back more. An all feather pillow will not compress or spring back very much at all (as well as not being very comfortable).
Mostly, this is a subjective decision based on personal preference. Do you prefer that soft and sumptuous luxury feel, where the pillow puffs up like a cloud, or do you prefer a pillow that stays the same and does not compress? If you tend to toss and turn during the night, choose a higher quality down pillow, as the firmness will adjust better to you position as you move.
Down Pillows
:
a good quality, wonderful compression down that will compress and spring back very well. Down adjust well to the shape of the head and neck, and provides superb support. A very high quality down will provide support when needed, and will always feel luxurious. As you go up in the quality of down filling, the compression gets better. With care, these pillows will last for years, and the higher the quality of the down, the longer the pillow will last. While most of these are machine washable, we highly recommend always using a good pillow protector.
Down & Feather Pillows:
these have less compression, and are more appropriate for those who prefer a firmer pillow with less 'puffiness'. They are also recommended for Euro squares (the types of pillows you would lean against). They are also very good for those that like two pillows, so use as the second pillow. St. Geneve makes the Chateau pillow specifically for these conditions. With care, these pillows will last for years. These pillows must be professionally cleaned, therefore the use of a pillow protector is required.
Feather pillows:
very little compression, and really only appropriate for decorative pillows and cushions (or unwanted overnight guests!). With care, these pillows will last for years. Since feathers are difficult to dry, these pillows should be professionally dry cleaned, and therefore a pillow protector is also required.
Synthetic pillows
:
these pillows have some compression, and with care, these pillows will last for about one year before going flat and lifeless. This is the main drawback of synthetics. If you compare an old polyester pillow with a new one, there is a striking difference. These pillows usually are machine washable.
Choose a good pillow protector
Always use a good quality pillow protector. A good pillow protector will literally add years to the life of a natural down fill pillow. Unlike the pillows themselves, pillow protectors are designed to be washed frequently. If the sleeper tends to have oily hair or perspires during the course of the night, we recommend the use of a quilted protector, such as the St. Dormeir pillow protector, as this will absorb better than plain cotton protectors.
St. Geneve Down Pillows can be found here:
St. Geneve Down Pillows
.
Pillow Design

Sealed Seams

Most St.Geneve pillows are made with a special sealed edge seam. There is no piping because, as the picture shows, the fabric is rolled and then sewn. This makes an inside fold that prevents any leaks along the edge.

Most conventionally made down pillows have a decorative piping which looks very nice, but as you can see from this end view diagram, the seam can't be sealed, which is most likely to cause aggravating leaks.

Gusseted Pillows

Pillow covers are made of fabric, not a rigid material, so as soon as you use the pillow, the seam will relax to its most natural "pillow shape" as shown in diagram "B". The pillow will not loft higher, or hold fill against the side any better, because of the soft and flexible fabric that is covering the pillow. The purpose for this is so that the pillow looks good and attractive when purchased, but like any pillow, after usage and washings the pillow will not keep this shape forever.

We don't care for this design, since there is no advantage to this style except that it looks attractive in the package. The greatest disadvantage to this style is that an extra seam is added, which doubles the possibility of leaks, especially if the seams have piping.

Chambered Pillows

These are pillows that have sections that hold different kinds of fill in separate chambers. For example a middle chamber filled with a feather/down blend in the center of a pillow for support, with a chamber of down on top for softness (Please see St Geneve Chateau Pillows). A lot of these pillows work quite well. Their main drawback is that they are difficult to clean, but if you use a good pillow protector at all times the pillow should last for years.